Well, we did it, we got through the entire list of countries that we were presenting for our "theme nights".
OK that's not totally true, we skipped two of them, but we will get back to those. Reasons.
For now, this was the first country to be repeated. And yes, I was playing music from "Evita" when the night began. I am not an animal.
A quick refresher on our first Argentina night, here. That was quite a night. It was actually the second one of these we ever had and it seems like a lifetime ago!
From our humble beginnings with just the four of us, our theme nights have branched out to include others. There were eight of us here enjoying some special food, special wine, and special company.
Links to the recipes are included.
Course 1:
Argentinian Proveleta with Grilled Chorizo, Olives and assorted cheeses
This was a bit of a disaster….I mean, the recipe calls for putting slices of Provolone cheese directly on the BBQ. What did I THINK was going to happen?!
It was tasty, once we scraped what was left of the cheese off the BBQ.
Course 2: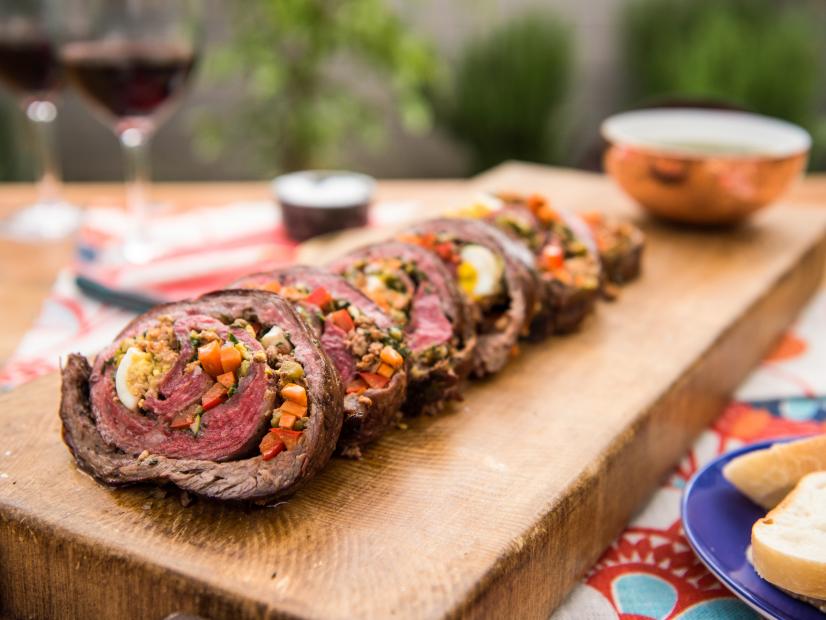 A dish I had never heard of, but I will make again. It was DEEEEEEEE-LISH-OUS.
True story: I am in the BC Liquor Store at 39th and Cambie last week, not really intending to buy any wine, but there are 3 bottles that I am having trouble finding that I thought I would look for. I struck out on the first two, and was perusing the "Fine Wine" section when I came across this one…the LAST BOTTLE! I scooped that bad boy up tout d'suite. About 3 minutes later, I'm wandering around when another customer comes up to a sales clerk and asks him to find a wine…and shows him a picture of THIS! LOL. Sorry pal, MINE MINE MINE MINE MINE. The sales clerk wanders around, can't find it, then eventually goes to the computer and finds out that they have one bottle in inventory.  I hear him say "Sorry, the computer must be wrong, I can't find it". HAHAHAHAHAHAHAHAHAHAHAHA SUCKER!!! 🙂
When we open up that bottle, it's going to taste like "Victory!".
Course 3:
Argentina is overrun with cows. They eat a TREMENDOUS amount of beef. Seriously if I had wanted this to be a totally traditional Argentinian meal, I could have served 6 courses of beef.
But, for goodness sake, I had a Chardonnay and Pinot Noir to pair with, so I turned this Veal Milanesa into chicken. They eat chicken in Argentina once a decade or so.
This was….fine. I mean, there really isn't much to the recipe, and I was expecting it to be pretty bland. It wasn't as bad as I expected….but nothing special.
Course 4:
Rosemary Steak with Burnt Carrot, Goat's Cheese & Beet Salad
I chose this recipe because, given that a couple of the other recipes were labour intensive, I needed something really simple. This was really simple, but also really tasty.
Course 5:
Pork Tenderloin Churrasco with Pineapple Salsa
Since some of my guests are not huge on spicy dishes, I left out the hot peppers from the Pineapple Salsa. This was really delicious.
Course 6:
The recipe was right….it sounds way, way too salty, but it wasn't at all. Everyone enjoyed this, even if it was the last course of the night and we were all getting pretty damn full by this point. And, it paired perfectly with this beautiful wine.
Terrific night of food, lots of good wine (and some GREAT wine), and good friends. Wine is fantastic, and sharing it with great people makes it even better.
Next up: Tons of random bottles to share, and we are only TWO WEEKS AWAY from the Vancouver International Wine Festival. It is going to be epic!!